Our Logo is Blue. Our Mission is Green.
Kaiserman Company's commitment to the meaningful growth and progress of our tenants, and our company, is rooted in an investment in our planet. As a multigenerational family business, we recognize how the business and moral cases for environmental stewardship are intertwined: We are long-term owners with long-term tenants and residents, so planning for the future is in our DNA. We strive to own, operate, and manage the most carbon-responsible properties possible, and we are proud to serve as a model for green-building operations.
We are active members of the Sustainable Business Network, Green Buildings United, and the Delaware Valley Smart Growth Alliance. We also support other local organizations that work toward our shared vision of sustainable communities. Check out some of our latest sustainable highlights in our Green Building Policies, as well as one of our case study Green Tenants, Barclay Cleaners at Barclay Farms Shopping Center.
We believe in doing well, by doing good
Sustainability is not just an ideal, but is put into practice at Kaiserman Company. By consistently refreshing our knowledge about the latest technologies, practices, and regulations in the greening movement, we remain on the cutting edge of sustainability. We strive to optimize how such practices dovetail with tenant satisfaction and positive financial performance.
We have spent more than $6 million in the past six years on projects including smart-lighting retrofits, extensive metering and ongoing commissioning, combined heat & power infrastructure, energy-conscious elevator overhauls, water-saving plumbing strategies, revolutionary window systems, and on-site solar photovoltaic installations, among other green operating tactics.
Most of our sustainability measures see an immediate and consistent annual return on investment, generating pure savings for both our carbon footprint and our bottom line.
A History of Forward-Thinking
Truly diligent and long-term responsible ownership and management means keeping up with the most effective technologies and practices, not just the latest regulations. Many businesses, as well as local governments, are beginning to track and report building energy efficiency; in fact, they're requiring it. That's why we track the energy performance of our entire commercial portfolio via ENERGY STAR's Portfolio Management tool, ensuring compliance with Philadelphia's new disclosure ordinance and, more importantly, smart energy-management principles. By upgrading the energy efficiency of our portfolio through site-specific targeted strategies, several Kaiserman properties have proven to be among the top 10 percent of energy-efficient buildings of their class in the nation.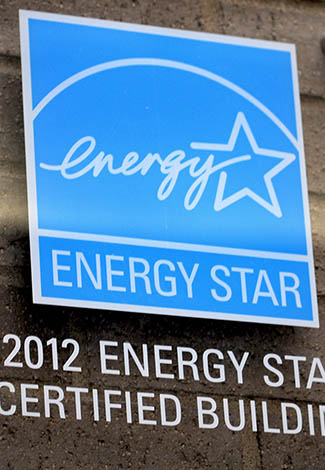 Want to Contact Us About Our Green Initiatives?